We provide a guidance service as making decisions about pension and retirement income options is increasingly complex for your employees. Including deciding how to best access hard earned savings at the point of retirement, or faced with pension decisions before retirement, such as a Defined Benefit (DB) closure or concerns around Annual and Lifetime allowance limits.
As retirement specialists in the workplace we have a unique insight into these issues. That's why we provide a guidance service based on a one to one conversation which helps employees clarify elements of their financial situation. These guidance sessions are via one to one clinics in the workplace or through telephone support at a convenient time for your employees.
Our guidance service includes: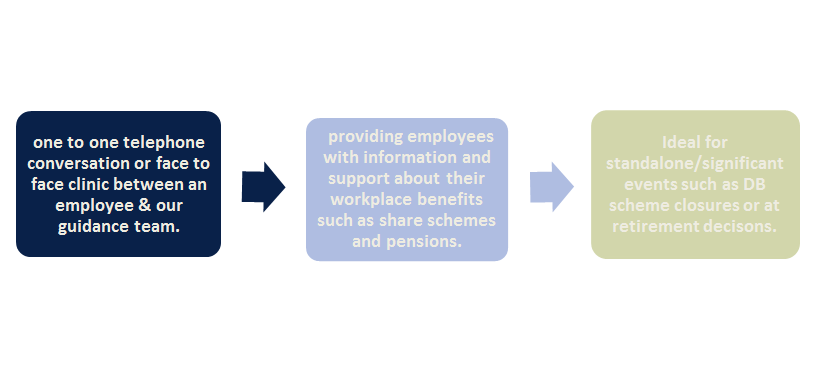 Our UK based helpline is there to help employees with questions about their workplace benefits and to provide information and guidance on the options available to them. It acts as a gateway into our structured one to one guidance and regulated advice services.
Our at-retirement guidance service is built around the Pension Regulators requirement for schemes to create 'Good Member Outcomes'.
Using a structured set of questions and prompts our expert guides discuss scheme specific options, the relationship to other lifetime savings, create a useful pre-retirement checklist and tick the Pension Regulator's and FCA's boxes when it comes to giving risk warnings for employees. A written report is created for the employee and the employer receives written confirmation to record that the session took place.
For many, financial guidance will answer their initial questions; however, they may need full regulated advice to make important financial decisions as this will provide them with very specific recommendations on how for example, to take income in retirement. For more information on regulated advice, please click here.
For more information on our guidance service, please contact us.