WEALTH at work provides a retirement income options service to many companies across the UK.
The growing need for retirement services has become increasingly important given an ageing workforce. The freedom and choice pension changes may provide more flexibility but at the same time they have greatly increased the complexity because of the myriad of choices now available.  Add to this the increased retirement risk to employees following the closure of many Defined Benefit (DB) schemes, mean these services have never been more important.
With full access to pension funds, employees now need to consider all savings when thinking about retirement; different pension schemes such as Defined Contribution (DC) and Defined Benefit (DB), ISAs, shares and other investments they may hold.
Our retirement income options service is here to help employees understand and make the most of their retirement options and income choices for what may be 25 years or more. In addition it provides the employer with a robust offering to help all employees in the lead up to retirement and beyond.
After a life-time of saving, employers can help their employees receive financial education and guidance, regulated advice and the full range of retirement income options in a single flexible retirement service.
Our retirement income options service includes:
Financial education – helping groups of employees understand the retirement income options available
Personalised guidance – a one-to-one discussion about personal retirement income options such as taking tax-free cash efficiently, buying an annuity or using income drawdown as part of a retirement plan. Generic and specific risk warnings are highlighted
Helpdesk support – a UK-based client services team able to answer a wide range of general questions on retirement income options
Regulated advice – our nationwide team of experienced Advisers specialise in workplace pensions and retirement income planning
Implementation of retirement solutions – we will ensure each employee has a plan that is right for them, taking into account their needs which may change over time. We look at all of their pensions, lifetime savings and their personal tax situation. We implement their plan using a wide range of options:
whole of market annuities
flexi-access drawdown
phased retirement strategies
managed investment portfolios
ISAs
SIPPs
Pension transfers and consolidation (DB and DC)
Whichever part of our service employees' access, we can offer them the support they need when they come to make their retirement choices. The main options that every employee can access to make the most of their retirement income plans through our service cover:
Cash drawdown – a non-advised service allowing for tax efficient and phased withdrawals over a number of tax years. Aimed at smaller DC pots or employees who want to hold cash before making a longer term decision
Single pension fund – provide regulated advice on the options available from a workplace pension scheme and implementation of an income drawdown strategy, whole of market annuity or combination of both. Aimed at those with a single pension fund and straightforward circumstances. If an annuity is appropriate, we broker on a whole of market basis and provide regulated advice taking into account health and lifestyle factors
Full planning – we take a holistic view of an individual's circumstances taking into account all assets e.g. multiple pensions, ISAs, savings etc. and includes advice on pension consolidation and DB transfers; something that is vitally important when assessing retirement income options
Our retirement income options service: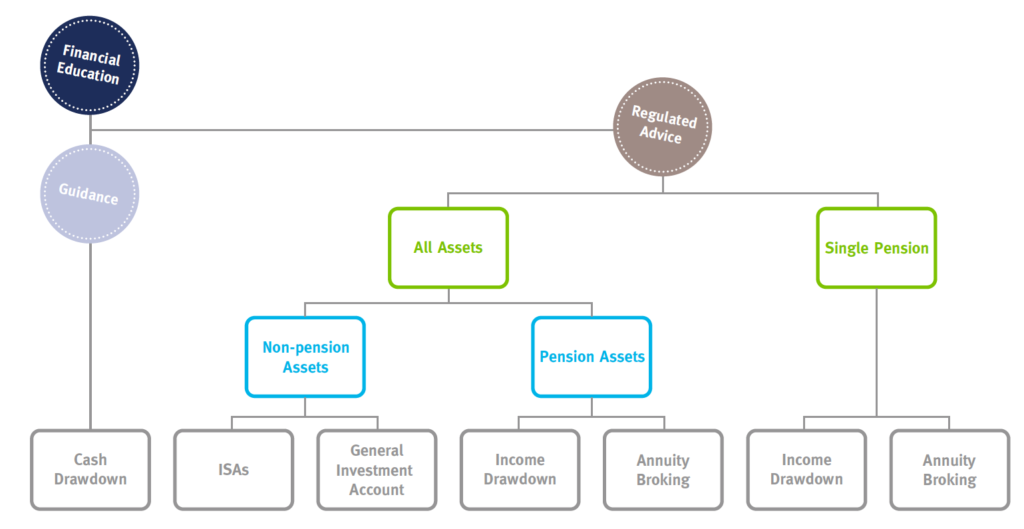 This service is available now to pension schemes, trustees and employers, whatever retirement income option is needed by employees and scheme members, they can access it through our service.
We educate, guide, advise, implement and manage retirement planning for employees throughout their retirement; supporting their income needs as it changes throughout retirement.